Singleton Birch commence construction of an Anaerobic Digestion Plant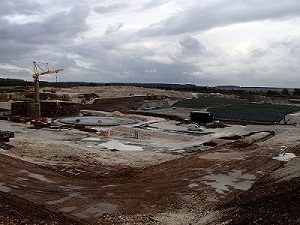 Singleton Birch has begun the construction of an Anaerobic Digestion Plant at its Melton Ross site. This development forms part of the Company's commitment to finding low carbon solutions to its large energy requirements. A Local Contractor is undertaking the Civils works whilst a reputable German Technology provider has been procured based upon quality, experience and system efficiency. The site is a redevelopment of the restored quarry and has required extensive ground works to keep the plant profile low and reduce its visual impact.
Presently the ground works are still on-going and the technology installation is due to start in mid-September. Construction of the plant is due to be complete in mid-February and then the seeding of the plant can begin which is the process of changing organic materials into biogas by bacterial means. This process takes approximately 60 days, during which further commissioning will also be undertaken on the plant. Full electrical production will start in early April.  Phase 2 of the plant will be developed over the next 12 months.