Singleton Birch Ltd celebrate 200 years!
We marked our 200th year with a series of open days.
VIP's, school children and the general public were welcomed onto our site to help celebrate the history of one of Northern Lincolnshire's oldest industrial processes.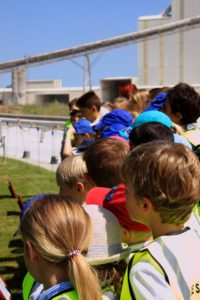 The company was established in 1815 and is named after the founder Wm. Singleton Birch, who was a minerals merchant based in Manchester. The company took on the quarrying lease at Melton Ross in North Lincolnshire in 1851 when the railway was extended eastward from Manchester via Sheffield to Grimsby. Originally a family business, Singleton Birch has significantly expanded and the business is a global supplier of lime products and services, with the lime produced used in many everyday products.
As part of our strategy to control energy costs, reduce carbon footprint and reduce reliance on grid electricity we invested in an anaerobic digestion facility in 2014. The facility generates electricity which will be consumed on site and equates to 40% of the site power consumption. The location in the middle of an agricultural area in Northern Lincolnshire means the company can digest purpose-grown crops as well as manures and other agricultural by-products. The crops are grown by local farmers and are fed with fertiliser provided by Singleton Birch, which is a by-product of the process.
The project demonstrates the vast future opportunities open to the company.