Singleton Birch Ltd to attend British Lime Association Conference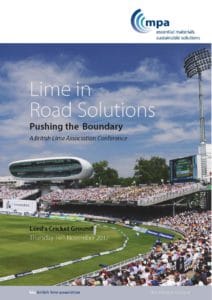 Lime in Road Solutions – 16th November 2017
This British Lime Association Conference brings together two key themes of the Government's industrial strategy – Infrastructure and Innovation.
Join us on 16th November at Lord's Cricket Ground to learn from the latest international experience on improving the durability of asphalt with lime, and to update your knowledge on the use of lime in hydraulically bound materials and for soil stabilisation.
The conference includes presentations from Highways England, the Local Government Technical Advisors Group and the Highways Term Maintenance Association, as well as from international, academic and engineering experts.
Please email Mary Burling at the British Lime Association for further information and registration details. mary.burling@mineralproducts.org.