Singleton Birch Anaerobic Digestion Facility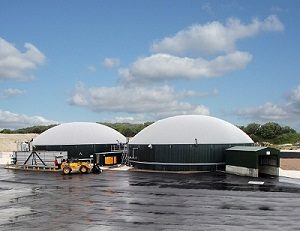 Singleton Birch has recently commissioned a 1.5MW anaerobic digestion (AD) facility at its Melton Ross Lime works. This facility will generate 12,000MWh/year of electricity which will be consumed at the existing lime works, and equates to 40% of the site power consumption. The facility will be officially opened on the day of the company AGM, 16th July 2014, by Lord Haskins, Chairman of the Humber LEP.
Singleton Birch embarked on the project as part of their strategy to control energy costs, reduce carbon footprint and reduce reliance on grid electricity.
The facility has been project managed in-house by the Singleton Birch project team and constructed to the company's usual exacting standards. The key contractors were selected following a process of competitive tender and due diligence.
The key technology components were provided by Planet Biogas Gmbh, a private German company with over 300 AD facilities to their name.
The civil engineering works and design was carried out by Torn Construction, a private construction firm based in nearby Kirton Lindsey.
The energy crops are supplied on a long term contract by North Lincs Energy Growers, a consortium of four local farmers.
Singleton Birch is now looking to build on this successful project by constructing and operating AD facilities on other sites in the area.
Key Facts:
Feedstock: Maize, Grass, Manures and slurries, sugar beet.
Feedstock Quantity: 30,000 tonnes per year
Electricity generation: 12,000 MWh/year
Site area: 2.2 hectares
Engines: 6 X 250kW
Capital cost: £5,000,000
Funding: Handelsbanken