Singleton Birch apprentices design 'Plant Isolation Logic Simulator'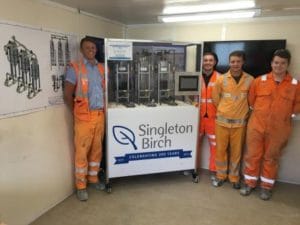 Isolation of equipment to ensure maintenance work is undertaken safely can be very simple if a single type of isolation is required.
However, in complex operations usually, a number of isolation points and types e.g. electrical and mechanical are both involved.
This can cause operational personnel a challenge in understanding the sequence of isolations required for differing plant shutdown scenarios.  Over the years, many avoidable fatalities and injuries resulting from incorrect isolation have happened across different industries.
With this in mind, four apprentices from Singleton Birch's Engineering Department (Project, Mechanical, Electrical and Instrumentation) were tasked with designing and delivering a Plant Isolation Logic Simulator.
The solution delivered consists of three liquid silos, an overflow sump, pipework, valves and a logic touchscreen computer control.
The simulator has been used to train and test Singleton Birch's operational personnel in their ability to safely isolate the correct sequence of valves from prescribed scenarios. Further demonstrations will be offered across MPA (Mineral Products Association) member sites in order to share the best practice.