Staff members become 'IRONMEN'!
The Ironmen! – Darren Scutt, Ashley Evans and Matt Austin
Staffordshire 70.3 IRONMAN 2016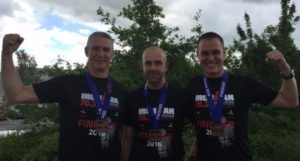 Darren Scutt, Matt Austin and Ashley Evans
On 12th June 2016 around 2,500 competitors took part in the Ironman 70.3 long distance triathlon race that started with a one and a half mile swim at Chasewater Reservoir, followed by a 56-mile bike ride through the Staffordshire countryside before the 13.1 miles half marathon finale. Participating in this extreme event were Singleton Birch's own Matt Austin, Ashley Evans and Darren Scutt, all three completed the course well within the allowed time limit posting very respectable times in their first attempt at this distance.