Singleton Birch Ltd complete the Santa Superstars Challenge 2013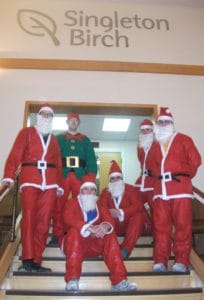 Singleton Birch Ltd supported the Lindsey Lodge Hospice by competing in the '2013 Santa Superstars Challenge'. The event took place in December 2013 at the North Lindsey College Events Centre.
The six 'santa' team members braved the elements and endured a 3-hour boot camp event against seven other company teams in pursuit of being crowned the 2013 Santa Superstars.
The team raised £350 for Lindsey Hospice,  a very worthy cause.  Unfortunately, they were not crowned the winning Santa Superstars but a very impressive fourth place was secured!