Singleton Birch took the honours in the open category in the Asda Foundation City of Lincoln 10K team challenge.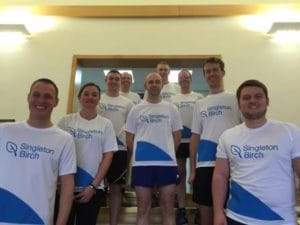 With the times of the first four team members home counting, Singleton Birch triumphed in the event's open category with an average time of 44:02.
A great way for friends and colleagues to get together to tackle the event, the team challenge brought an added dimension to the second Asda Foundation City of Lincoln 10K on April 17th which attracted over 6,000 runners to Lincoln.
The challenge was chip-timed and, along with prizes for the winners, there were goody bags, medals and finishers' t-shirts for all those taking part.
Singleton Birch is now preparing to enter a team into the 2017 event to defend their team event open category 2016  win!